Ok worlds worst pics from my dirty ipod
This is johns converted phoenix that i attempted to assemble tonight, negative comments welcome, but first, new record only glued myself to the model one time, my fingers together only once, and stabbed myself only once. Pretty damn good.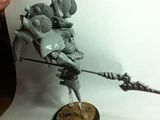 _________________


Quote:

Kill one crusader, back off, kill a redeemer, back off, kill an arc node, back off... In the end it tends to be just Magnus hiding in a wood in the corner waiting for Kreoss until he comes too near by accident and Magnus *****slaps the bastard.